Goa India poster print
On the southwestern coast of India, the state of Goa has become increasingly popular with holidaymakers since the 1960s. The area is quite unique in appearance because of its Portuguese colonial architecture and heritage, following an invasion by Portugal in the early 16th century. Particularly visible in Old Goa, which was the colonial capital think breath-taking cathedrals to the baroque architecture and crumbling ruins of forts.
A trip to Goa could take on one of many different vibes depending on which area you visit. There is a more Mediterranean feel to Old Goa, whereas heading to North Goa will uncover a hive vibrant markets, lively nightlife and plenty of activities to keep your entertained for a week or two. South Goa, on the other hand, could almost be mistaken for the Caribbean; with its more laid-back vibes, luxury hotels and coconut groves blending with traditional Indian hospitality and cuisine.
We couldn't talk about Goa without mentioning its fabulous beaches! Wildly popular since the 60s hippy days, the sandy shores are spread from tip to toe of the coastline along the Arabian Sea, with each beach having an individual personality of its own. The beach we have featured in our design is Palolem Beach, a mile long stretch in South Goa thats well known for both its natural beauty, activities party atmosphere. Backed by lush greenery and brightly coloured wooden huts, these are rented out to tourists who want to enjoy a bit of Goan rustic charm and premium access to the golden sands.
Our Travel Posters are original creations that we create ourself. We use quality paper for printing. All products are handmade, packed and shipped by our team. Our production is 100% made in the United Kingdom.
Customer Reviews
02/15/2022
Judith B.

United Kingdom
Beautiful poster
Bought as a present for my son and daughter-in-law to remind them of their holidays in Goa. Arrived well packaged with a very friendly courier who rang me to tell me he was on his way. Special thanks to Matthew who provided excellent customer service
11/26/2021
Wendy B.

United Kingdom
2 for 3 posters
My experience was good but I bought 2 for 3 posters and was really disappointed that the 3rd poster was a small size and not the same as the ones I ordered . This small size will not go with the other 2 bigger sizes and I don't remember this being stated when I bought them .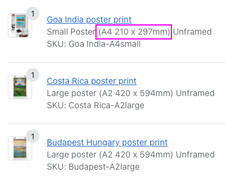 11/30/2021
Paradise Posters
Hi Wendy, I have just read your review and checked your order. You ordered 2 x A2 and 1 x A4 size prints. If you would like to exchange the A4 print for an A2 please let me know. Kind regards
09/02/2021
Rachel D.

United Kingdom
Excellent customer service
Very impressed, will use again.